ZOLL in the News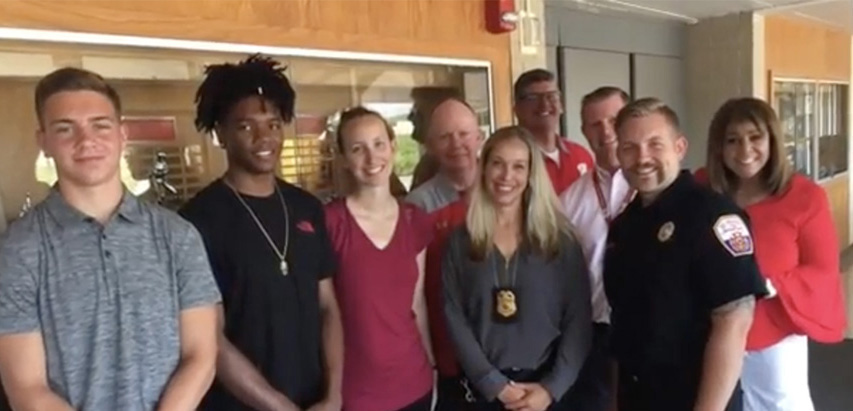 Save Story: Back from the dead


Colleagues save man's life with CPR and a ZOLL AED Plus®
Read More

Bellefontaine Fire and EMS Department saves one of their own with the help of the AutoPulse®.
AutoPulse Plays Key Role in Firefighter/Paramedic's Survival
Bellefontaine Fire and EMS Department saves one of their own with the help of the AutoPulse®.
Read more
AHA Resuscitation Science Symposium (ReSS) and Scientific Sessions 2017
19 scientific presentations related to ZOLL products and technology are scheduled to be presented during ReSS.
Read more
Donora Fire Department Saves Three Lives Trialing AutoPulse
The Donora, Pa., fire department saved three lives within a month last summer while trialing the AutoPulse® Resuscitation System.
Read more
New Massachusetts Law Requires AEDs in Schools
New law to help students, staff, and visitors alike.
Read more
2016 ZOLL EMT Scholarship Recipient Lisa Reinert
The ZOLL EMT Scholarship was established to support the education of EMTs who are working toward their paramedic certification.
Read more
Quick-thinking Bystanders and AED Registry Save Martial Artist's Life
A 51-year-old Ottawa man's life was saved this fall thanks to the decisive actions of a group of bystanders and an innovative AED registry system.
Read more
AHA Resuscitation Science Symposium (ReSS) and Scientific Sessions 2016
17 scientific presentations related to ZOLL products and technology are scheduled to be presented during ReSS.
Read more
"Shock for Your Little Heart" Raises Awareness and Access to AEDs
A large multimedia campaign in Vienna called Schock fürs Herzilein (Shock for Your Little Heart) is taking a lighthearted approach to informing the public of the need to act when witnessing sudden cardiac arrest.
Read more
Pink Floyd Drummer Funds ZOLL X Series for Midlands Air Ambulance
Nick Mason presents Midlands Air Ambulance with a check for more than £18,000.
Read more
Shocked 54 times, Australian Man Cheats Death
Australian man is saved by the Royal Flying Doctor Service, with the help of an X Series.
Read more
First Use of ResQCPR System Saves Texas Man's Life
Montgomery County EMTs are trained to use the ResQCPR System and save a man's life just 10 days later.
Read more
ZOLL Joins Carequality Data Sharing Network
ZOLL joins the interoperability health data sharing network
Read more
X Series Featured on Singaporean Currency
The ZOLL X Series is featured on a commemorative Singaporean $10 note.
Read more
Singapore Installs AED Plus Units in Public Housing
The Singapore Civil Defense Force recently installed 160 AED Plus® units in elderly housing facilities.
Read more
ZOLL Rep and Two ZOLL Devices Help Save Omaha Woman
A ZOLL sales rep uses the equipment he sells to help save a life.
Read more
ZOLL Honored for World-Class Customer Service and Support
ZOLL receives 14th consecutive NorthFace ScoreBoard Award.
Read more
Teen Survives Hit to Chest by Baseball
A fifteen-year-old boy nearly died when he was hit in the chest by a baseball.
Read more
AutoPulse Helps Save Man's Life in UK Cath Lab
A 44-year-old Welsh engineer is saved by the new AutoPulse® in Morriston Hospital's cardiac center.
Read more
ZOLL Donates AED Plus to Watertown Police Dept. for One Boston Day
ZOLL and Boston's Channel 7 honor the Watertown Police Department with the donation of an AED Plus® for One Boston Day.
Read more
Lifesaving Value of AEDs in Patrol Cars
Sheriff's deputy uses AED Plus® to save a 60-yar-old Michigan man's life.
Read more
Dr. Keith Lurie Honored for CPR Innovations
Keith Lurie, MD, is among the 10 medical professionals chosen as the EMS 10: Innovators in EMS 2014.
Read more
New AEDs Installed Just in Time
The South Port Square Life Care Community acquired new AEDs just in time to help save a life.
Read more
Opposing Team's Goalie Helps Save Hockey Player Using CPR
Nanaimo AEDs used in multiple saves
Read more
AZM Distributes Japanese AED and CPR Primer
50,000 copies for elementary school students
Read more
Rookie University Police Officer Saves Student's Life
Volleyball game almost proves deadly
Read more
A Day in the Life of a Red Sox Fan...
AED helped Red Sox fan survive SCA.
Read more
HALO-Flight Saves Valuable Time
with X Series
Sends vital 12-lead ECGs
to doctors
Read more
Strangers Come Together
to Save a Life
CPR and an AED Plus® were
used to help save a life.
Read more
ZOLL Provides AEDS for Ride
the Rockies Bike Tour for
Fourth Year Running
This year's Ride the Rockies tour
began in Boulder. Read more
Two Lives Saved in One Day
in Ottawa
CPR and an AED Plus® were
used to help save two lives.
Read more
Airport Traveler Saves A Life
with 17 Minutes of CPR
Sue Hostler was honored with an
award for saving a mans life.
Read more
"I Would Have Died . . ."
Immediate CPR and the AED are
credited with greatly improving
Jeff Krasner's chances for a full
recovery.
X Series Protects Veterans on
Their Trip to Washington, D.C.
X Series Monitor/Defibrillator
accompanied 51 World War II
and Korean War veterans from
Nevada on their Honor Flight.
Minister Saved in Church by AED
and Bystander CPR
Howard Campbell, a retired minister
from Blue Springs, Kansas, was saved
in church this February.

X Series Featured in New Canadian
TV Drama
Season one, which premiered February 24,
can be seen Tuesdays at 9:00 pm ET/PT
on the Global TV Network.

Japan's Care Service Equips Its Healthcare
Vehicles with AED Plus Units
Care Service has provided nursing services
to Tokyo's 23 wards since 1990.

Sochi Airport First to Have AEDs
in Russia
Visitors to the 22nd Winter Olympics
traveling through Sochi International
Airport can feel a little safer now.



AutoPulse Used to Resuscitate
Scotsman During Heart Surgery
A 51-year-old Scotsman is very,
very lucky to be alive today.

AED Plus Helps Save Afghan
Soccer Player's Life
Farzad Ghulam collapsed during
the SAFF Championship semi-final
in Nepal.

1939 Plymouth Brings Lifesaving
Full Circle in Oregon
Fire department to purchase its first
AutoPulse® Non-invasive Cardiac
Support Pump.

AHA Resuscitation Science
Symposium (ReSS)
and Scientific Sessions 2013
16 presentations related to ZOLL
products and technology.
ZOLL Sponsors Viva! Week in Bologna
to Promote CPR and AED Training
1800 people of all ages received CPR
and AED training. Read more

Lucky 11-Year-Old Swimmer in
Folsom, Calif.
Survived sudden cardiac arrest
neurologically intact. Read more

Miracle Man Survives SCA after
42 minutes of CPR and 11 Shocks
Ron Porter survived neurologically
intact.
AED Plus Aboard New Jersey's
Official Tall Ship
CompleteCare Health Network
donated two AED Plus units.
Manitoba Legislation Mandates
AEDs in Public Places
AEDs must be installed in
"high-traffic public places."

New York Cardiology Practice Donates
Two AEDs to Local Football Team
Dr. Jack Layden facilitated the
donation.

Australian Save Shows Value
of AutoPulse
A man clinically dead for 40 minutes
regained a pulse.
38-year-old Woman Revived with AutoPulse
A former junior world champion triathlete.
Firehouse Subs Grant Enables Another
AutoPulse Purchase
The Holt Community Fire Protection District
now has two devices.

ZOLL Products Ready for Their Close-ups
ZOLL products are featured on the set of a
Toronto-based medical drama.
AED Plus Used to Treat Two
Students at Evergreen High
Two students collapsed at the
campus this school year.

NHL Player Saved with AED Is Spokesman
for Heart and Stroke Foundation
He was saved by his friends, who performed
CPR and used the AED Plus.
X Series and RescueNet Road Safety Receive
EMS Safety Innovation Award
The winners were chosen by experts from the
EMS Safety Foundation.
A Heartfelt Gesture
An AED Plus was donated to the Salvation Army
Sudden Cardiac Arrest in Aisle 7
The X Series and the AutoPulse were
used to save a shopper.
AutoPulse Used to Help Save British
Footballer from Sudden Cardiac Arrest
The AutoPulse was used following manual CPR.
Prognosis is good for happy holiday season
Police save runner using CPR and AED.
Two Saved with Same AED Plus at Fitness Club
The gym staff knew exactly what to do in providing
CPR and using the AED Plus.
Sanford Health Uses IVTM for Spinal Cord Injuries
One of the first medical centers to use IVTM
for spinal cord injuries

X Series Wins 2012 Top Innovation Award from EMS World Magazine
Featured as one of the EMS industry's most innovative products of the year
AHA ReSS and Scientific Sessions 2012
Thirteen ZOLL-related presentations scheduled
A Valentine Gift for the Heart
from Hearts4Hockey
AED Plus donation delivered to school
Pay It Forward
Grant recipients donate AEDs
A Thanksgiving Story
Donated AED helps save student's life

AHA ReSS and Scientific Sessions 2011
CIRC Trial Results to be presented
CPR and AED Plus Score Big at Pick-up Basketball Game
Celtics coach helps save victim's life
AED Pro Reaches the Peak
Accompanies Mt. Kilimanjaro ascent
Heart Disease Survivors Show Heart at Spinners Game
AHA and ZOLL team up for hands-only CPR
Danish Officer Serving in Afghanistan Saved with AED Plus
Collapsed in fitness tent
Packer Named to MassDevice CEO Class of 2011
Cutting-edge leadership and innovative thinking
AED Plus Helps Save Cyclist During Ride the Rockies Bicycle Tour
57-year-old receives two shocks.
Hero Cups, Pickle Buckets, and the AutoPulse
Firehouse Subs AutoPulse donation helped save a life
ZOLL Canada Helps Sponsor Toronto Heart and Stroke Bicycle Ride
72 riders and 11 teams
One Hockey Player Saves Another
Goalie saved with AED donated in another's name
Boston Marathon SCA Survivor Helps AHA Raise Over $1 Million
Carleton Smith attends AHA Heart Ball
Canada Announces $10 Million for AEDs
SCA victim saved in arena with AED
Georgia Considers School AED Legislation
Andrew Cohn AED Act
STEMI Management Solutions Help Save Lives in Winnipeg
Wireless technology shortens D2B time
Dozens Perform CPR for 96 Minutes to Help Save SCA Victim
Volunteer firefighters, police, rescue squads
Missouri Elementary School Teacher Revived Using AED Plus
Will push for state AED legislation
IVTM Helps Miami Gymnast Walk Again After Spinal Cord Injury
Intravascular hypothermia treatment
Bystander CPR and AED Plus Help Save Ottawa Fitness Center Member
Kicking off American Heart Month
A Knight to the Rescue
Golf course patrons now protected by AEDs
Wisconsin Middle School Student Saved with CPR, AED Plus
Suffers SCA in physical education class
Defibrillators and CPR: Saving Even More Lives in 2011
R Series featured in DOTMed Business News
AED Plus at Tournament of Roses Parade 2011
4th consecutive year
Virginia YMCA Patron Saved with Help of AED Plus
Quick action in spinning class saves a life
Missouri SCA Victim Saved Twice Wearing LifeVest
2 cardiac arrests in one week
SCA Survivors Attend CPR 50th Anniversary Gala
CPR pioneers honored
AEDs Installed in UK Neighborhoods by Housing Association
City West Beats trains staff on AEDs
County Celebrates 300th School AED
All schools equipped with AEDs, thanks to public access defibrillation program
Tennessee Athletic Club Member Saved with Help of CPR, AED Plus
Club members, staff perform CPR
Ontario Student Saved on College Campus with Bystander CPR, AED Plus
Public Access Defibrillation program put into action
Firefighters Fight Huge Shanghai Apartment Blaze
Chinese medics stand by with M Series defibrilators.
Pennsylvania Police Officer Saved by Deputies Using AED Plus and CPR
Sherriff's deputies save a life at the courthouse
Oregon AED Legislation for Schools and Public Places
New AED mandates
2010 AHA Guidelines for CPR and ECC Released
C-A-B emphasizes compressions first.
New Dental AED Legislation in Massachusetts and Mississippi
Board regulations require AEDs in most dental offices.
AED Programs Give Lay Rescuers Confidence
"In a Man-Down Emergency," as featured in ISHN.
Bobby Pantano, A 14-Year-Old with Guts
Diagnosed with Bicuspid Aortic Stenosis, he keeps on going
Canadian Ski Patrollers Use CPR, AED to Save Cardiac Arrest Victim
Man collapsed in Ottawa park as patrollers retrained.
Hospitals Provide Early Defibrillation Options
Early defibrillation can be seconds away.
Billings Clinic Wants Montana Communities HeartSafe
Public access defibrillation programs help save lives in rural communities.
911 Dispatcher's CPR Instructions to Husband Help Save Wife's Life
Bystander CPR, AutoPulse, help save sudden cardiac arrest victim.
Temperature Management Featured in Surgical Products
"Warming and Cooling Critical to Temperature Management" in July issue.
Boston Med TV Show Features 6-Year-Old SCA Survivor
First grader Olivia Quigley collapsed during gym class.
Airport Passenger Saved by Sheriffs Using AED Plus and CPR
Airline passenger collapsed at Fort Lauderdale-Hollywood International Airport.
Bystander CPR Provider Honored by Boston Celtics
Laura Geraghty revived a man at Walmart using a PocketCPR.
Hospitals Improving Sudden Cardiac Arrest Response Programs
In-hospital reuscitation, CPR, Chain of Survival...
World Cup Sports ZOLL Defibrillators
ZOLL defibrillators and AEDs are at the World Cup.
Steve Whitehead: Guest Blogger
Steve shares an experience about capnography's benefits.
CPR and AED Awareness Week: AEDs in Canada
Schools, hockey rinks, recreation facilities—Canada is serious about AEDs.
Jenny's Mother is on a Mission
17-year-old Jenny Snyder's heart stopped suddenly during soccer practice.
CPR and AED Awareness Week, June 1-7
You have the power to save a life in your hands.
Sudden Cardiac Arrest Victim Saved at Twins Baseball Game
Volunteer paramedics, first responders, nurses and doctors saved this fan's life.
ZOLL Celebrates EMS Week 2010
EMS Week is May 16-22, and we just want to say thank you...
AEDs in Hospitals and Clinics Becoming More Common
AEDs are an important first step in early defibrillation.
SCA Foundation Contest Winners Receive AEDs
Norwich Free Academy won two AEDs with a video about 15-year-old Larry Pontbriant.
Second AED Save at Nanaimo Hockey Rink
Retired firefighters used CPR and an AED Plus to save their teammate's life.
Bystander CPR and EMS Bike Squad Save Boston Marathoner's Life
The Boston EMS Bike Squad used the ZOLL AED Pro to resuscitate the runner.
School AED Helps Save Life During Basketball Game
A Virginia school's AED helps save a life during a men's league game.
Firehouse Subs AutoPulse Donation Helps Save Man's Life
Foundation donation to Mt. Pleasant Fire Department saves a life.
ZOLL CEO Rick Packer on the Medical Device Tax
ZOLL CEO Rick Packer speaks about the medical device tax included in the new health care reform bill.
Tennessee School AED Legislation Introduced Following Student Death
Tennessee is the latest state to look into AEDs at schools and sporting events.
Florida AED Legislation for Assisted Living Facilities
Pending legislation would require AEDs in certain assisted living facilities.
Technology Improves Military Health Care Outcomes
Brenda Butler talks with Military Medical Technology about patient outcomes.
Ambulance Safety, Social Media, Information Sharing at EMS Today
How safe are EMS paramedics in the back of a moving ambulance?
AED Legislation in Maryland, Oregon, and Wisconsin
States legislate AEDs in health clubs, physical therapy offices, and high schools.
Chronicles of EMS Web Reality Show Premieres
World-wide premiere in San Francisco starring Justin Schorr and Mark Glencorse.
Ontario Man Saves a Life - Again
This hero is starting to make a habit of saving lives...
Radio Interview on AEDs, CPR, Resuscitation
WCAP interviewed Senior VP Ward Hamilton on heart disease, AEDs and more. Read more...
AEDS Donated to Schools by Mass. Foundation
For American Hearth month we're featuring heroes in the fight against sudden cardiac arrest. Read more...
Firefighters Give 81-Year-Old Another Chance at Life
Barre, Vermont, firefighters have given 81-year-old Joe Ryan a second chance.
February is American Heart Month
Heart disease is the leading cause of death in the United States.
Michigan Red Cross Advocates for AEDs in Schools
Speed counts in a sudden cardiac arrest, and schools should have AEDs on site.

Medical Device Makers Tax Addressed by U.S. Senate Candidate Scott Brown
Scott Brown visited ZOLL to discuss healthcare reform.
CPR, Resuscitation Guidelines Feedback
Take part in the ILCOR and AHA process to develop recommendations.
Canada Hockey Rinks Use AEDs
Two sudden cardiac arrest saves at hockey rinks in Canada used AEDs.
AEDs at Tournament of Roses Parade
23 AED Plus® AEDs will be at this years Tournament of Roses parade.
Government Funding for Rural AEDs Increases
Congress voted to increase funding for the Rural Access to Emergency Devices (RAED) Grant Program, for automated external defibrillators (AEDs) in rural areas.
National Association of EMS Physicians Present Ambulance Safety Conference
Leading experts will be discussing topics related to the improvement of safety for rescuers and patients in a moving ambulance.
Oregon Legislation Requires AEDs in Larger Businesses
As of 1/1/10, new legislation in Oregon requires automated external defibrillators in larger businesses.
AED Saves Life of Ontario Elementary School Student
James Keating Elementary in Penetanguishene is celebrating the survival of their student, Brandon Koskitalo.
ZOLL Supporting Chronicles of EMS Web Reality Show
Chronicles of EMS is the first reality series by EMS providers for providers.
An EMS Expo Live interview on the floor of EMS Expo demonstrates the AutoPulse non-invasive cardiac support pump.