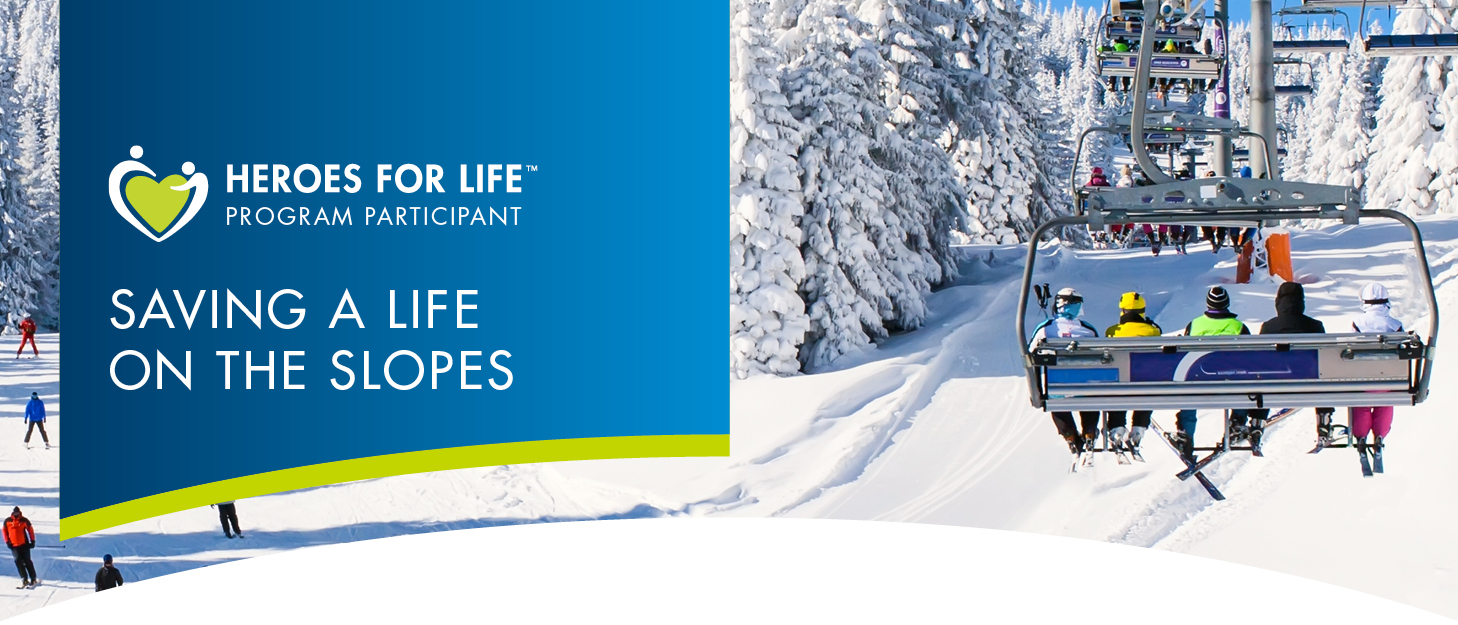 The forecast called for 90° in Phoenix on March 19, 2019. But just 2 ½ hours north in Flagstaff, skiers were still flocking to the Arizona Snowbowl to enjoy final days of spring skiing.
Among the spring skiers were Larry Gerberi and his partner, Debbie, who had driven up from Phoenix that morning. Larry, an experienced skier, was eager to hit the slopes as soon as they arrived. But Debbie, who was relatively new to the sport, decided to grab some lunch before her 1:00 p.m. ski lesson. The couple agreed to meet at 12:30 so that Larry could get a run in before helping Debbie prepare for her lesson.
Larry put on his skis and headed up the chairlift to take a run. "Everything was perfectly normal as I started down the slope," he says. "But about a third of the way down, I had to stop to catch my breath."
A warning sign?
At first, Larry was unconcerned. "No surprise — Snowbowl is 9,200 feet in altitude," he notes, adding, "Maybe I was a little more winded than normal, but now that I'm 70 years old, things don't work as well as they used to!"
He stopped again about two-thirds of the way down, continuing to feel winded. Larry finished his run and removed his skis, but as he bent down to pick them up, he became dizzy and nauseous. "I thought to myself, maybe I can fight this off," says Larry. "That's the last thing I remember."
Luckily, Dr. Nicolaus Hawbaker, an emergency medicine physician at the Flagstaff Medical Center, was standing nearby when Larry collapsed. Dr. Hawbaker was enjoying a day off skiing at the Snowbowl, but seeing the situation, he jumped into action. He quickly determined that Larry had no pulse, and he instructed a bystander to start CPR and a ski school instructor to retrieve a nearby AED (automated external defibrillator). Larry was suffering sudden cardiac arrest (SCA).
After several rounds of CPR and a shock from the ZOLL® AED Plus® defibrillator, Larry's heart resumed a normal rhythm and his condition stabilized. "I regained consciousness in the rescue sled attached to a snowmobile," Larry says. "I had no idea what happened or how I got there, but I was completely lucid and responsive."
"It's comforting to see the ever-growing placement of AEDs and the heightened awareness of the importance of CPR training." — Larry Gerberi, sudden cardiac arrest survivor
"Lucid and responsive" may be an understatement. Larry was able to direct rescuers to his wallet and cellphone, provide the password, and guide them to the information in his health app — all the while joking about the snowmobile throwing snow onto his bare chest: "It's no problem; I grew up in Chicago!"
Moving forward
Larry was in the hospital for about three days, where he was given an ICD (implantable cardioverter defibrillator) to help prevent future incidents of SCA. Having undergone an ablation procedure in October 2018 to correct previous episodes of atrial fibrillation, Larry is keenly aware of the risks of SCA, and he is eager to focus his positive energy toward others going forward. "Since my SCA, I have become aware of the difficulties [others] have endured as a result of SCA," he says. "It is great that we live at a time that technology exists to avoid an SCA repeat."
"Basic CPR can and does save people's lives, and it did so in this situation."
— Dr. Nicolaus Hawbaker, rescuer
Larry had the opportunity to meet — and thank — Dr. Hawbaker, who stopped by to check on him. "Any expression of gratitude is inadequate to cover the kindness I received," Larry says. "Everyone who participated — Arizona Snowbowl for having the AED, the bystander who started CPR, the ski patrol, the paramedics, ER personnel, and hospital staff — all deserve my appreciation, as does ZOLL for having such an effective device."
An atypical experience
Larry knows that his experience is not typical of an out-of-hospital SCA. "I was extremely fortunate to have an angel and an AED readily available," he acknowledges. "My heart goes out to those who were less fortunate and have had so much to cope with."
Larry Gerberi and his partner Debbie.

He adds, "It's comforting to see the ever-growing placement of AEDs and the heightened awareness of the importance of CPR training."

Dr. Hawbaker agrees. "Basic CPR can and does save people's lives, and it did so in this situation," he notes. "Being willing to help someone who's in trouble can really make a difference."

In fact, Larry himself received his third CPR/AED certification renewal just two weeks prior to his SCA. Coincidence? "Maybe karma is a real thing," he replies.