Students and colleagues save life of high school trainer
They thought she was dead, but students and colleagues persevere to save the lives of a high school trainer and her unborn baby
St. Francis, Wis. – When students and staff at St. Francis High School showed up for class that day, they had no clue they would soon take part in a life-or-death situation.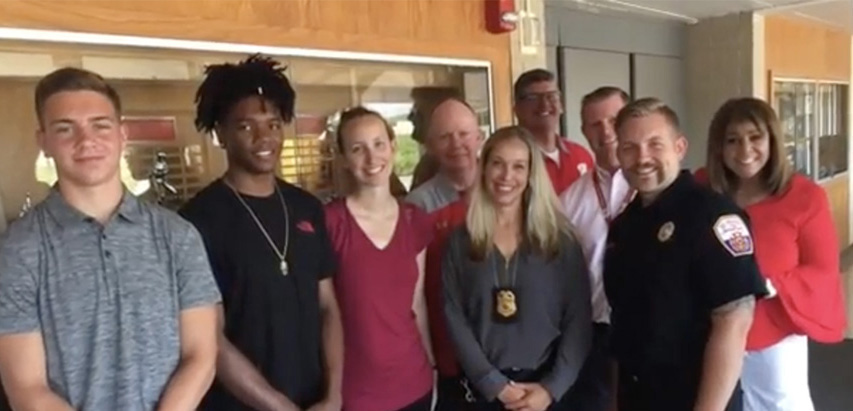 Niki Hoppe, the school's 33-year-old athletic trainer, was working with 17-year-old St. Francis student Kyle Kubacki when Hoppe suddenly collapsed. Another student, Isaiah Duncan, rushed to call 911: "The trainer – she's on the bed, passed out. She's dead. She's blue in the face."
Until then, Hoppe had been a picture of health. Also, she was pregnant.
Staff members lined up to help administer CPR until EMS arrived. Within minutes, first responders arrived and applied the school's ZOLL AED Plus®. The defibrillator advised a shock, but for some reason this did not immediately restore a rhythm.
The superintendent and another staff member told the group of anxious colleagues that Hoppe was "gone and not coming back."
Miraculously, however, their conclusion turned out to be a false alarm. Hoppe's heart eventually started beating again and she was rushed into emergency surgery, where she delivered a premature baby girl weighing just two pounds, nine ounces.
"I'm the last person anyone thought that would happen to," Hoppe said later. "A lot of people get this feeling that 'nothing can happen to me because I'm young,' and that's just not the case."
When Hoppe arrived at the emergency room, her heart was functioning at only 20%. Her husband signed papers for a transplant that day, and Hoppe now has a defibrillator implanted in her body.
Today Hoppe is doing well, thanks to the winning team that jumped in to save her life. Doctors still don't know why Niki Hoppe's heart stopped, but she remains grateful to the team that never missed a beat to save her life -- and her baby's.
"My daughter and I -- we literally owe them our lives. If it wasn't [for] how they reacted, we wouldn't be here."
For more on this story, visit: http://bit.ly/2N86pth