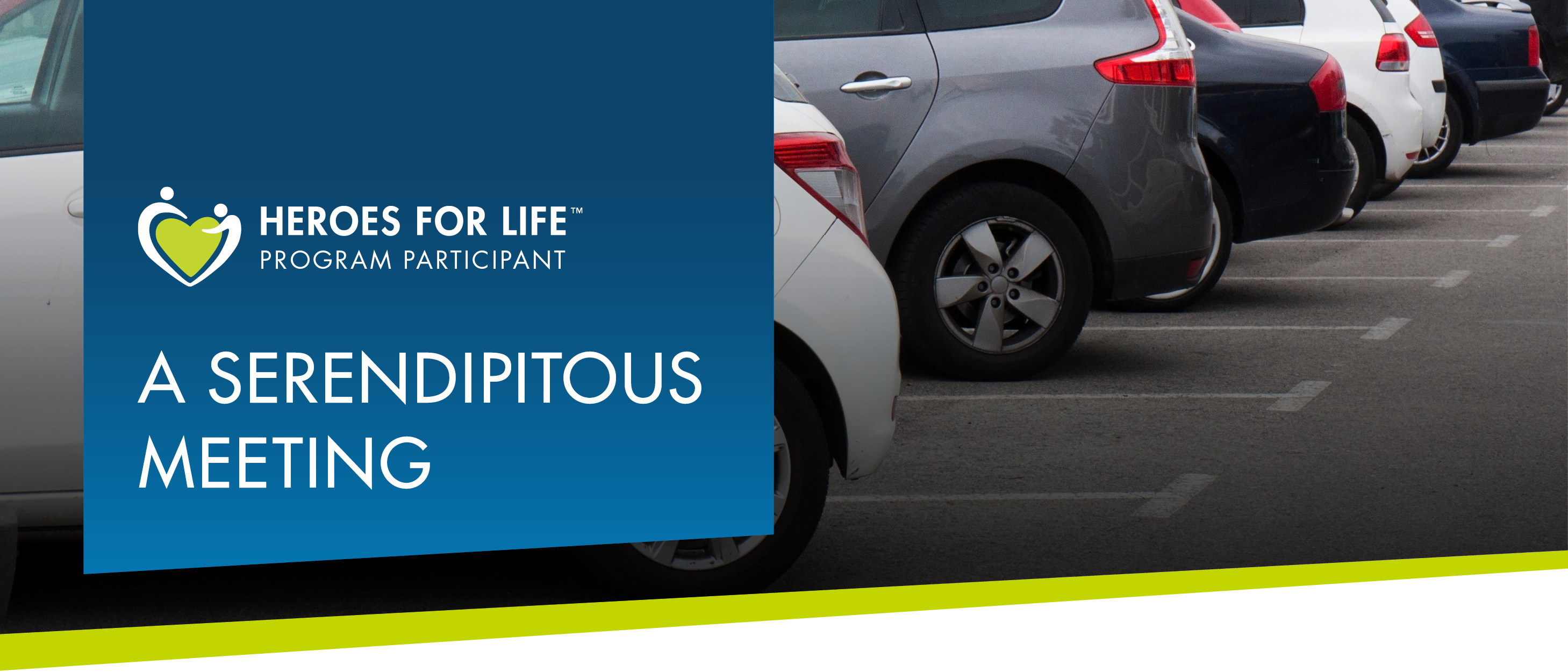 ZOLL® Public Safety Sales Manager Damian Dollard was making last minute preparations for an AED user training at the Hilton Hotel in Melbourne, Florida, last March. He holds these trainings regularly and has for several years. Damian had a few minutes to gather his thoughts before attendees began arriving and felt an urge to step outside for a moment, so he headed to the parking lot.
At that very moment in the same parking lot, Anthony Battaglia was waiting to meet a colleague to hand off some sales materials before heading to the airport to meet his wife Nicole. They were leaving for a long-awaited weekend away.
But recent hot weather had left Anthony fatigued and lifting the heavy suitcase from his trunk made him dizzy. Anthony suddenly felt his heart pounding in his chest. Anthony's colleague tried to support him, but as Damian watched from just outside the hotel entrance, Anthony went down — right behind the trunk of Damian's car!
A timely response
Damian immediately ran to Anthony and his colleague. "When [Anthony] looked up at me, I could tell from his expression that something wasn't right," Damian recalls. Damian sprinted to the hotel and asked front desk staff to call 911, then sprinted back to the two men by his car.
As Damian checked his pulse, Anthony closed his eyes and slipped into unconsciousness. Damian suspected sudden cardiac arrest (SCA). He opened his trunk and pulled out a ZOLL automated external defibrillator he used for training classes.
He removed Anthony's shirt, attached the electrodes, and turned on the ZOLL AED 3®. The device immediately analyzed Anthony's heart and called for a defibrillating shock. The device then instructed Damian to deliver cardiopulmonary resuscitation (CPR) compressions.
"When [Anthony] looked up at me, I could tell from his expression that something wasn't right." — Damian Dollard
A surprising realization
Damian delivered one minute and forty-one seconds of compressions before Anthony took a deep breath. Twice during compressions, the ZOLL AED 3 audibly instructed Damian to "Push Harder" in order to deliver high-quality CPR. While Damian had never used an AED on a human, he'd done trainings dozens of times. It surprised him that as practiced as he was with an AED, he still benefited from real-time feedback.
Approaching EMTs yelled and gestured urgently for Damian to continue delivering compressions. But as he did, he heard Anthony yell "Stop!" EMTs attached monitoring electrodes and convinced Anthony to get on a stretcher for transport to a local hospital. Anthony grabbed Damian's hand. "Don't let me die," he said. And in the next breath he told rescuers, "Don't tell my wife! She'll have a heart attack!"
Nicole met Anthony at the hospital where no cardiac issues or arterial blockages were discovered. Eventually doctors pointed to overexertion and an electrolyte imbalance but said it was impossible to know exactly what caused Anthony's SCA.
"They did say that if the person who helped Anthony hadn't been there, he probably wouldn't have survived," Nicole recalls. Anthony was fitted with a ZOLL LifeVest®, a wearable defibrillator that allowed him to fly safely back to his doctors in New Jersey.
A chance encounter forms strong ties
Anthony's SCA occurred in April 2021, and it created a strong bond between Anthony and Damian. Shortly after his SCA, Anthony and Nicole invited Damian and his wife Cheryl to their home in New Jersey for Father's Day weekend. There Damian and Cheryl had the opportunity to meet Anthony's four children and his extended family and stay at the family farm.
"Without Damian," Nicole points out, "we wouldn't have been celebrating Father's Day."